Discover the Imagination. Imagine the Discovery!
History
History
The Charleston Catholic School opened its doors in 1991. Bishop David Thompson chose the former Sacred Heart Catholic School to house a Catholic Elementary school on the peninsula. The school set forth with four goals: Catholic Identity, Academic Excellence, Community Acceptance, and Financial Independence. Sister Carol Ann Kleindinst was the founding Principal and 186 students were enrolled.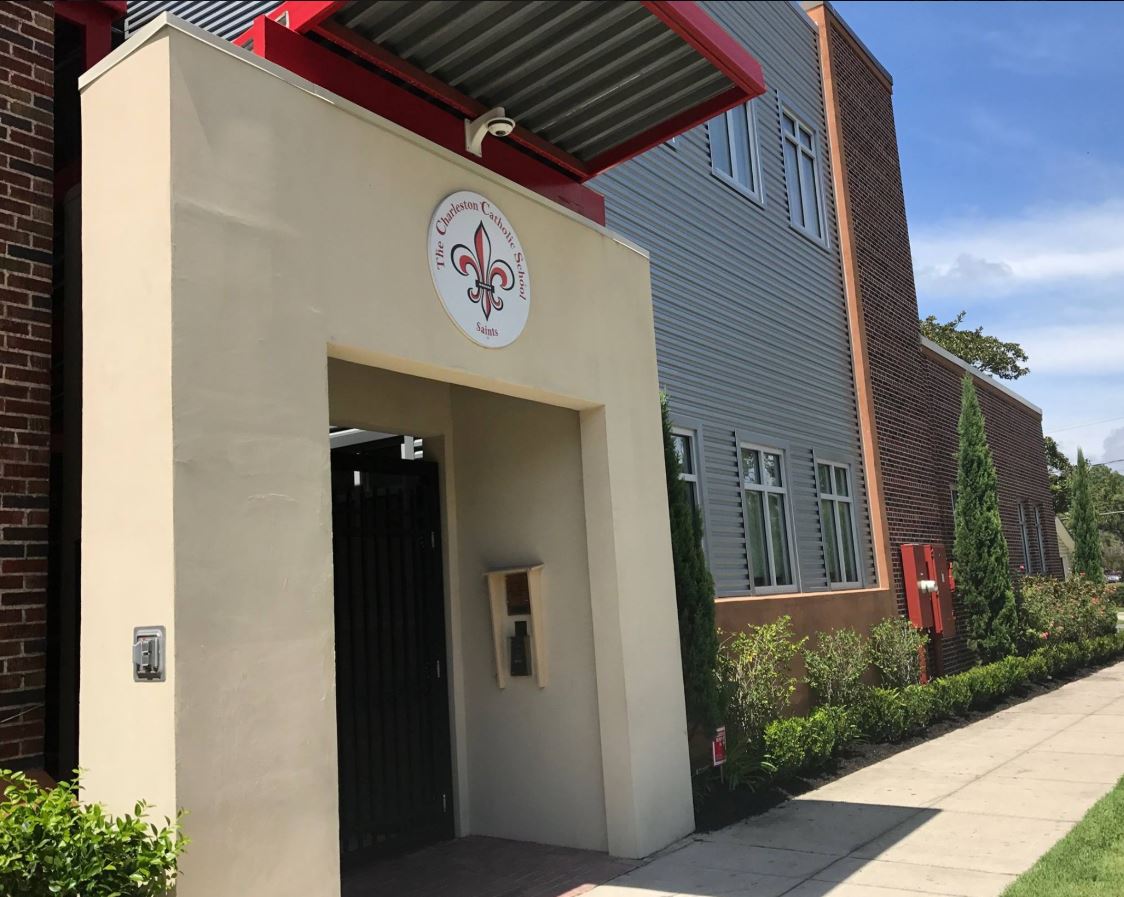 The Charleston Catholic School serves children from the four Catholic Peninsula Parish Churches; The Cathedral of St. John the Baptist, Saint Patrick, Sacred Heart and St. Mary of the Annunciation. Although CCS is a Catholic School children from all beliefs are welcome. We appreciate the diversity CCS offers and the opportunity to teach our core values to all students who grace our school.
During the first year, the arts curriculum was initiated and Movement, Art, Chorus, Drama, and Band classes were introduced. Since that time Math & Science, Creative Writing, and NASA have been introduced. CCS offers Physical Education Classes twice a week, Spanish, Computer Class, Library, and accelerated Math Classes are also offered.
In 1995, the K4 Preschool Building was completed and classes began. K4 was a half-day program which increased to a full day option in August of 2005. CCS now offers education to K4 – 8th grade and both K4 and K5 are full day programs. In 1998 a Development Position was added.
To help offset budget demands, the first Saints Alive Auction was held in November of 1993. This event generated nearly $3,700.00. The Saints Alive Auction has grown every year; we have moved the event to different venues in recent years. In 2014 we chose Founder's Hall in Charles Towne Landing and raised nearly $60,000.00. Not only has the Auction been successful, it is also a night the parents look forward to every year. It's a time to dress up, enjoy a night out, and donate to a cause we all believe in.
In the spring of 2012 a new vision of CCS started to become a reality. The K4, K5 & Band rooms were demolished to make way for a modern state of the art renovation. The 5th – 8th Graders were moved to The Cathedral Building on Broad Street. They would remain there for 18 months. The 3 million dollar expansion would become a reality in February of 2014. At this time the students were reunited on one campus and the vision which began in 2002 would come to fruition. The renovations included: new office space, a reception area, a health room, a conference area, file room, 4 classrooms, an Art Studio, Music room and new restrooms. Renovations continued through the summer months on the existing buildings and playground area. All renovations were completed by August 2015.
In 1991 Bishop Thompson had a wonderful vision of a Catholic School on the Penisula, and with his guidance and the leadership of Sister Carol Ann Kleindinst, Sister Bridget Sullivan, Mrs. Yvonne Tolley Orr, and Frederick McKay, the vision has become a reality. The support and countless hours of dedication from our Board Members, Parents, and Teachers, we have all seen what can be accomplished through the generosity and support for Catholic Education.
CCS Principals include:
Sr. Carol Ann Kleindinst 1991- 1998
Sr. Bridget Sullivan 1998 – 2000
Mrs. Yvonne Tolley Orr 2000 – 2006
Fred McKay 2006 – present