Discover the Imagination. Imagine the Discovery!
Student Success Program
Student Success Program
Director: Mary Ile Taylor, Ed.S.
The Student Success Program is in its fourth year of service at The Charleston Catholic School (CCS). We are excited to reach students in a variety of methods. The foundation of the program is to meet students where they are on any given day to address the academic, social/emotional, and behavioral needs of the students, including those who may have a diagnosis or otherwise. Students and families also navigate life issues such as death, sickness, divorce, abuse, and bullying. CCS assists families in this journey by providing support.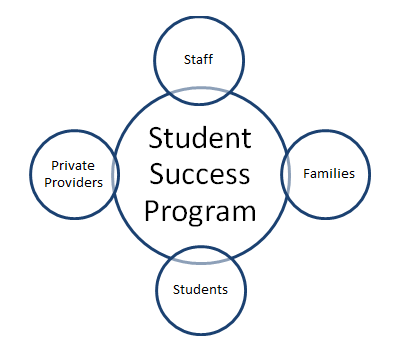 The program serves one third of the student body who has a diagnosis by a doctor, psychologist, Speech language pathologist, etc. We have students with Specific Learning Disabilities (in the areas of reading, written expression, mathematics, auditory processing, language based), Autism, ADHD, Depression, Anxiety, Executive Functioning weaknesses, Emotional/Behavioral disorders, Seizures, Allergies, as well as other medical issues. A student success plan is prepared for each student being served with a diagnosis.
The Student Success Program collaborates and coordinates with many private based resources to assist students in being successful. The following providers work very closely with the program: Speech Language Pathologists, Occupational Therapists, Physical Therapists, Applied Behavioral Analysis (ABA) Therapists, Audiologists, Orton Gillingham Specialists, Counselors, Educational Psychologists, Grief Specialists, tutors, and various doctors.
While the program serves those with a diagnosis, it also supports other students. Recognizing the difficulties life may bring, the Student Success Program partners with Bridges SC to provide small groups to address those students dealing with significant grief issues due to the loss of a loved one. Bridges SC also provides educational resources to our staff through workshops on how to deal with students experiencing grief or depression. As a partner, they also provide support for individual situations.
In addition, the Student Success Program is in its third year in partnering with the Citadel to provide cadet mentors to students who need positive role models and direction in their lives. As a partner, the Student Success Director has jointly presented with the Citadel at the National At Risk Youth Convention and several Citadel Leadership Symposiums on the positive outcomes of mentor/mentee relationships.
Furthermore, due to the increase in Anxiety among children today, the Student Success Program is partnering with JSS Behavioral Services. This partnership will enable students, staff, and families the opportunity to access these services in a familiar environment. Our partnership includes providing staff training, 6th -8th grade classroom meetings, family training, small groups and individual counseling related to better understanding Anxiety: what it is, that it can be good and bad, and strategies to manage it. JSS counselors will provide crisis intervention support as needed.
Currently, the Student Success Program schedules students for support throughout the school day as needed. It also provides necessary accommodations for testing during all class periods. The director meets with families, staff, and providers as needed to ensure students are being supported appropriately
While the Student Success Program is capable of meeting most student needs, we are also supportive of knowing that our environment may not be conducive for all student needs. When putting students first, it is our belief that balance is the key component to a successful school community. With balance comes an honest and compassionate conversation for appropriate placement decisions.
Please join us in celebrating our students each and every day as we provide opportunities for each student to be the best community member he/she can be here at CCS and beyond. We certainly are blessed by our students, staff, and families.
At this time, the Student Success Program is staffed by the Director, Mary Ile Taylor (full time) and either part-time teacher Jessica Rowland or Pam Jones for 3 hours each day.