Discover the Imagination. Imagine the Discovery!
Student Success Program
Student Success Program
The foundation of the Student Success Program is to address the academic, social/emotional and behavioral needs of the students on a daily basis. We support students and families as we navigate various life issues compassionately. Our team approach involves all stakeholders: staff, families, students and private providers.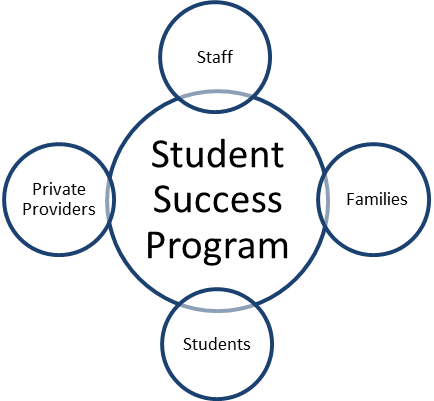 The Student Success Program schedules students for support throughout the school day as needed, provides necessary accommodations for testing and various task support needs. The program's success is built upon building relationships with families and students to ensure open communication related to the needs and success of all students. Through these relationships, students and families are comfortable expressing their needs as we work together for solutions as we strive to meet the needs of all students.
While the Student Success Program is capable of meeting most needs, we are also supportive of knowing that our environment may not be conducive for all students. When putting students first, it is our belief that balance is a key component to a successful school community. With balance comes an honest and compassionate conversation for appropriate placement needs and decisions. Please join us in celebrating our diverse population as we provide opportunities for our students to be the best community member he/she can be at CCS and beyond. We certainly are blessed by our students, staff and families. We welcome any feedback on how our program can serve the students and families better.
Private Providers on Campus:
• Mrs. Chelsea Keyes through Catapult Learning offers individual and small group counseling to address any academic and social/emotional issues.
• Private based resources: Speech Language Pathologists, Occupational Therapists, Physical Therapists, Applied Behavioral Analysis (ABA) Therapists, Audiologists, Orton Gillingham Specialists, Counselors, Educational Psychologists, tutors and various physicians.
Student success
Mrs. pam jones
Mrs. Jones has a Master of Arts in Teaching from the College of Charleston and a BA in Psychology from the University of South Carolina. She has been teaching at Charleston Catholic since 2008 in various roles including second grade teacher, long-term substitute, classroom assistant, and in the Student Success Program.
ms. Catherine flanders